People First Design
Our end-to-end service is anchored in the value future residents will apply to a beautifully crafted, aspirational living space. Speed to market, higher rental values and shorter voids drive our collaborations with customers; but it's our knowledge of end user behaviours that delivers returns.
Elevating Renting
Designing Aspirational SpacesFor Real Lives, Together.
LOFT deconstructs traditional preconceptions of renting every day. From design consultancy and sustainable procurement to aftercare and waste management; we align our product and interior design lifecycles with the wellbeing of real people, living real lives in today's rental market.
What We Do
Our design consultants are skilled at establishing unique identities within everyday spaces, producing innovative and high profile interiors for any property or project.
Our procurement and project management, with an emphasis on style, sustainability and durability, brings real value across PRS, PBSA, BTR and Co Living schemes.
Taking care of the detail at every stage, with the ability to scale-up support and make even complex projects straightforward; LOFT's offer covers the end-to-end lifespan into aftercare, replenishment and refurbs.
Well-designed spaces impact the success of projects. The time it takes to rent or sell, the amount that people are prepared to pay, and the likeliehood of them wanting to stay. It all depends on understanding who will be using the space, and how.
The Art House Collection
Our statement collection; curated using bold yet elegant pieces; inspired by abstract art itself.   The combination of large pops of colour, and finer material details, balances the range perfectly.
The Natural Scandinavian Collection
Taking inspiration from the Nordic region, and paying close attention to the collections name, natural, light, and minimal finishes create a relaxed and welcoming array of furniture to call home. 
The Classic Collection
A beautifully curated collection of furniture that exudes sophistication, elegance, with a timeless allure.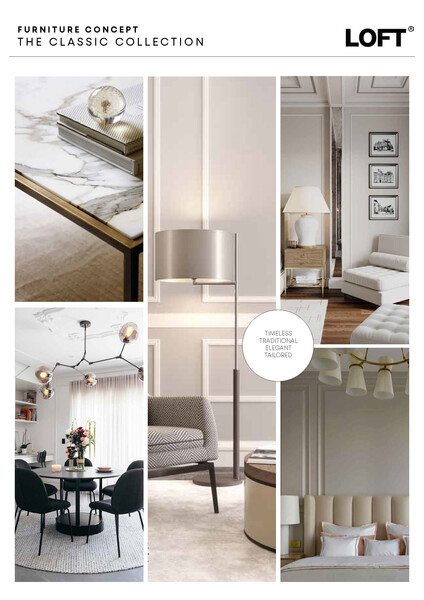 The Mid Century Collection
A timeless collection of furniture inspired by the icons of design. Utilising the warmth of materials such as walnut and brushed brass, and clean lines to enhance statement pieces.
The Bohemian Collection
This collection celebrates finishes and textures, from far and wide. Inspired by distant travel and artisan creators, using a variety of finishes and materials to create an eclectic yet cohesive range.